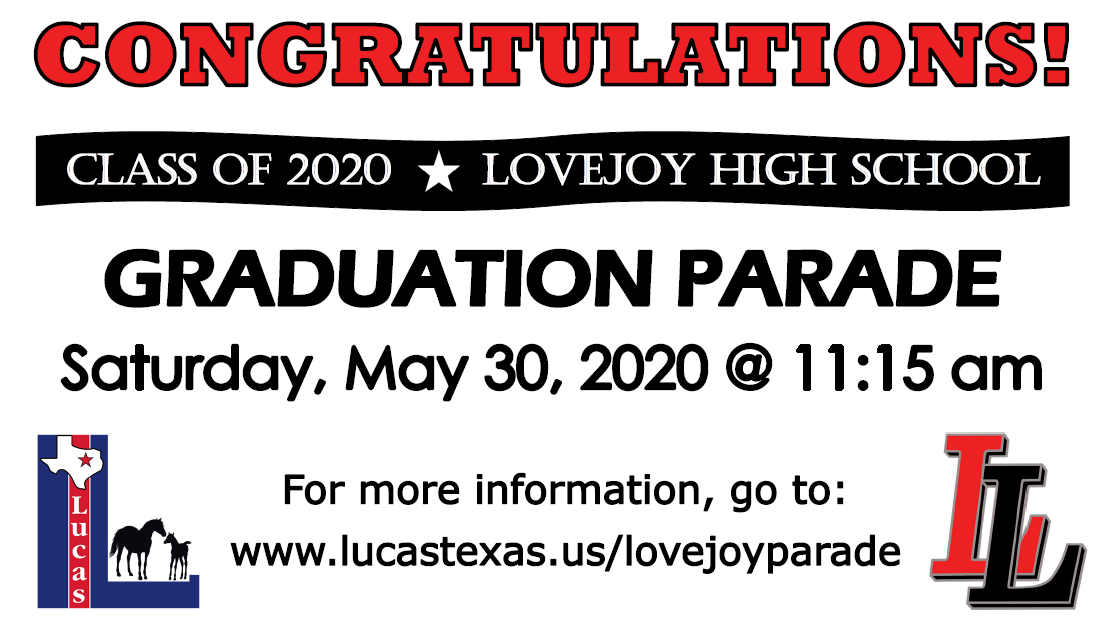 In partnership with the City, Lovejoy ISD is holding a graduation parade to celebrate this year's graduating seniors from Lovejoy High School. The graduation ceremony is scheduled for Saturday, May 30, 2020 at 9:00 am at Lovejoy High School. Students/parents will be checking in at Lovejoy High School via their vehicle and will park facing the graduation stage. Once the ceremony has ended, Lovejoy staff members will be directing the parade lineup for students/parents who will be participating in the graduation parade with their vehicles.
The graduation parade will begin at approximately 11:15 am and later end at Lovejoy High School.
To view and cheer the graduating seniors in the parade, the public may park at the following approved parking lot locations along the parade route: Grace Church, Hart Elementary School, Lovejoy ISD Transportation, Lucas City Hall, Lucas Veterinary Hospital, Northwest Corner of Country Club Road and West Lucas Road, Trinity Tabernacle AOG, and Willow Springs Middle School. There is no parking allowed on or along any roadways.
The parade route will go through the front parking lot of Lovejoy High School (west to east), as this is where Lovejoy staff members will be waiting to honor the graduating students as the parade begins. The parade will move: (1) east on Estates Parkway, (2) south on Ingram Lane, (3) north on Country Club Road, and (4) west on Estates Parkway returning to Lovejoy High School.