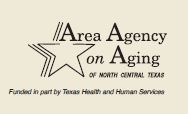 The North Central Texas Council of Governments (NCTCOG) Area Agency  on Aging is conducting an important survey between now and September 15, 2019, to collect opinions about what matters most to older adults and their caregivers. Input will be used to prioritize services and programs for older adults and caregivers in our area. The survey is available online or by paper copy in both English and Spanish.
For English, link to: https://www.surveymonkey.com/r/NCTAAA
For Spanish, link to: https://es.surveymonkey.com/r/NCTAAAS
To obtain a paper copy in English or Spanish, please send a request to jhenning@nctcog.org.