BLONDY JHUNE ROAD - Middle and Eastern Sections
This project extends from the west bridge to Winningkoff Road and is estimated to cost $2,700,000.
COUNTRY CLUB ROAD/ESTATES PARKWAY INTERSECTION
The goal of this project is to add a northbound to westbound left turn land as well as an eastbound to southbound free right turn lane.  The estimated cost is $350,000.
STINSON ROAD - Southern Section
The estimated cost is $2,267,000 for the section of Stinson Road from Parker Road to Bristol Park.
STINSON ROAD/W. LUCAS ROAD INTERSECTION
Design is under way for this $453,000 project.  The letting schedule as not been determined yet.
WINNINGKOFF REVERSE CURVE -- In Design
In the February 18, 2016, Lucas City Council meeting, City Manager Joni Clarke was directed to enter into a $139,400 design contract with Birkhoff, Hendricks & Carter, LLP for the design of the reverse curve portion of Winningkoff Road between north of Christian Lane to north of Forestview Drive. The reverse curve will be designed with consideration given to making the Winningkoff Road/Forestview Drive intersection a T-intersection with a three-way stop sign control. The typical width of the concrete roadway is 24 feet, but the width of the curves will be such to allow room for a school bus and a passenger car to pass each other. A proposed timeline for the Winningkoff Road Reverse Curve Project is as follows:
October 15, 2016 – 100% Bid Set Finished. The bidding and construction will be delayed to avoid conflict with the Blondy Jhune Bridges construction.
May 2017 – Advertise Bid
May or June 2017 – Pre-Bid Meeting
June 2017 – Receive Bids
June 2017 – City Council Award
July 2017 – Notice to Proceed
July 2017 through January 2018 – Construction
August 9, 2016, Town Hall Meeting Exhibits
1) Easements 2) Plan With Aerial 3) Plan Without Aerial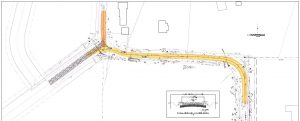 Birkhoff has submitted 60% plans to the city for review. 60% Plan Review Set
WINNINGKOFF ROAD - Middle Section
This project extends from the Reverse Curve Project to Snider Lane.  the estimated cost is $1,400,000.
W. LUCAS ROAD WIDENING -- Out For Bids
The apparent low bidder was Reynolds Asphalt Construction at $1,1394,677.  Staff is planning to ask the City Council to award this project during the June 1, 2017, City Council meeting.
This project is posted on the city website.  The project has two components:  1) reconstruction of the shoulders and overlay and 2) base repair work.  Each component is funded differently.  The Regional Toll Revenue, Collin County bonds, and Lucas impact fees fund the reconstruction and overlay, and the base repair work is funded from the General Fund roadway repair line item.  The project is 4,150 linear feet with two 11-foot main lanes, a 13-foot continuous left turn lane, and two 2-foot shoulders.  The construction bids are due on May 4 with construction starting in June.