The Finance Department is responsible for all financial functions of the City and provides accounting and budget services to all departments within the City of Lucas.
Arranges for annual financial audit services
Manages the City's investment portfolio and banking relationships
Monitors budget compliance
Performs necessary state and federal reporting requirements
Prepares periodic financial reports
Prepares the annual operating budget
Processes utility payments and City accounts receivable and payable
Responsible for managing the procurement of goods and services for all City of Lucas operations
---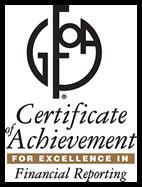 The City of Lucas received the Certificate of Achievement for Excellence in Financial Reporting from the Government Finance Officers Association nine years in a row. This award is given to local governments that go beyond the minimum requirements of generally accepted accounting principles to prepare comprehensive reports that evidence the spirit of transparency and full disclosure.
---