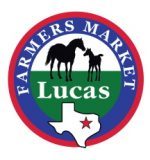 Lucas Farmers Market
The City of Lucas Farmers Market will be held from 8 am to Noon at the Lucas Community Park located at 665 Country Club Road on the dates listed below. Please fill out the online application below. There will be a $20 participation fee per market excluding the Founders Day and Country Christmas events which are no charge.
Deadline for submission of the completed application was February 14, 2020.
The Lucas Farmers Market Committee has completed vendor selections for the 2020 markets.  There are  spaces still available primarily for produce vendors  and for cottage food vendors offering products that are not already represented at the market.  Your application will be reviewed and you will be contacted within two weeks of the application if approved to participate. 
Completed applications submitted by February 14, 2020 will be considered and reviewed by the Lucas Farmers Market Committee and decisions will be communicated to vendors by March 13, 2020. An approved application by the Lucas Farmers Market Committee will serve as the vendors permit to participate in the Lucas Farmers Market. Upon approval, fees must be received by the City of Lucas one month prior to the farmers market event before a booth space will be assigned. Accepted payments include check or credit card (please note that there will be a 3% processing fee for credit card payments). Make checks payable to the City of Lucas and mail to the attention of Lucas Farmers Market, City of Lucas, 665 Country Club Road, Lucas, Texas 75002. Credit card payments can be taken over the phone by contacting the City of Lucas at 972.912.1206. Please include your vendor/business name on all correspondence and payments.
Click here to view the Lucas Farmers Market Rules and Regulations.
Click here to view the Food Establishment Permit Application.
Farmers Market Schedule for 2020:
Saturday, April 25
Saturday, May 9 - Founders Day
Saturday, May 23
Saturday, June 13
Saturday, June 27
Saturday, July 11
Saturday, July 25
Saturday, August 8
Saturday, August 22
Saturday, September 12
Saturday, September 26
Saturday, October 10
Friday, December 4 - Country Christmas (6 - 9 pm)
FILL OUT THE APPLICATION BELOW THAT WILL BE SUBMITTED TO THE LUCAS FARMERS MARKET COMMITTEE: