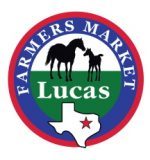 Lucas Farmers Market

The City of Lucas Farmers Market will be held on Saturday, October 12 and Saturday, November 2 from 8 am to Noon at the Lucas Community Park located at 665 Country Club Road.  This is a pilot program to determine interest and support of this community activity. The Lucas Farmers Market Committee (LFMC) fully anticipates the success of this market and plans on kicking off weekly markets in the spring.  During our first year, booth fees are waived and vendors that participate in the October and November markets will receive preference for space selection in the spring and fall seasons.
Our rules are simple:
Be respectful

Provide quality products

Have fun!
In order to process this application, please ensure that all fields are filled in and all information is accurate. The goal of the LFMC is to have diversity in the types of products being provided at the market.  Vendor must meet the definition of a Farmers Market Vendor as set forth in the rules and regulations pertaining to the City of Lucas Farmers Market and follow all established guidelines by the Texas Department of State Health Services and/or Collin County Health Department.
Click here to view the listing of 2019 Farmers Market vendors. 
Click here to view the Lucas Farmers Market Rules and Regulations. 
Click here to view the Food Establishment Permit Application.